photo credit: One Direction Snapchat
If you've ever wondered how Harry Styles styles his hair or how Hilary styles her hair, for that matter, you're in for a treat. My life's work and the very first Harry Styles hair tutorial featuring a girl almighty lady (that we can find, anyway) is here. We PROMISE even if you don't know one thing about Harry Styles or One Direction, you'll want to try it. We could have called this tutorial "How to Get Effortless Waves with a Structured Pomp" but it doesn't have the same ring to it.
After months of Tumblr research, 1D interviews and hair flip practicing, I found the perfect combination of product and technique to achieve Harry Styles' – can we say iconic? – hair style. Hilary and I decided to document this process, after realizing how amazing the style really was. From the perfectly tousled waves to the expertly styled pomp, this look is great for long and medium length hair. Try it on short hair and be surprised that this method may yield a very different, but rewarding end result. I tried this technique on my short-ish hair and actually ended up looking quite a bit like Louis Tomlinson. The Tim Hortons' drive-through lady thought so too. So keep an eye out for a Tommo tutorial in the future. We know we could never work the glorious hair-magic of the brilliant Lou Teasdale (One Direction's hair and makeup extraordinaire) but we'll try!

These basic volumizing techniques, paired with some very scientific hair-flips, will have you hotel party and secret rendezvous ready in no time. If you aren't familiar with this hairstyle, see the GIF below for guidance. Let's get started shall we?

Tools You'll Need
Hair gel (YUP for serious)
Hairspray
Texturing Powder
Sea Salt Spray
Your hands
Step One
The first step is simple. Part your hair on the opposite side of where you normally would. If you don't part your hair anywhere, just choose the side opposite your natural part. This may feel awkward and unnatural, but go with it as it will help achieve that all important volume. Here we have a lovely GIF of Harry – I mean Hilary – showing you how to do it. To be honest, we could've stopped here (the act of going against the part of your hair is used to create a great deal of volume on its own), but we are going for the real deal.
Tip: make sure the part isn't too far over. An easy way to gauge this is to pretend there in an invisible line from the arch of the eyebrow up to the top of the forehead (that's where you want your part).

Disclaimer: The way you flip your hair gets me overwhelmed. There will be lots of hair flipping, just putting it out there. But it's the way we need the hair parted in the end, it's the method to the madness of this style. We do it first to help us form a vision of the end result.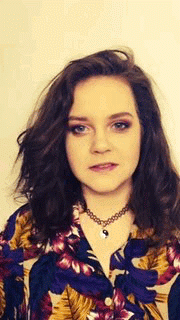 Step Two
Now that we know where we want our part, flip the hair to the opposite side and start adding some more long-lasting volume. I pinned Hilary's hair for a second while I found the texturizing powder that I obviously misplaced. I used the Ulta "Volume & Strength Texture Boost" (which is discontinued) but any good texturizing powder will work. This next bit is tricky to describe. Take your texturizing powder and shake it on the hair close to the scalp on both sides of the part. Pretend you're rubbing in dry shampoo, moving your fingers gently up and down to create volume (almost in a scratching motion) – you've never seen it look easier than in the gif below. Flip the hair over after you have finished, back towards that "wrong part." Continue this process for about every inch of hair, flipping it over to the opposite side, until you are back to the way your hair was in Step One, but with a lot more oomph.
The process should go something along the lines of this:
Step Three
After you've made it through all that texturizing, grab your trusty surf spray. We're obsessed with the John Frieda Beach Blonde Sea Waves Sea Salt Spray because of its ability to maximize curl and texture. Dampen the ends of your hair with the salt spray and don't forget to apply some to the top of the pomp you've created. After you've applied the sea salt spray scrunch like so: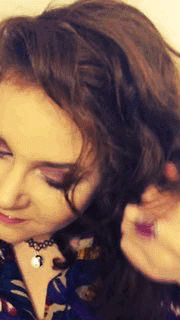 Step Four

Hairspray time. This part is simple – just spray some of your favorite flexible hold hairspray into the pomp. We opted for what Hilary had on hand, Nexxus Comb Thru Natural Hold Design and Finishing Mist. Yes, you will need to flip the hair back and forth again. Repeat Step Two but with a little mist of hair spray in each section. Hold the hairspray at least 9 inches away as not to over saturate – you want a flexible hold.
Step Five
Now for the shaping of the pomp. The neo-pompadour, as we like to call it, is the crux of this style. This is the most coveted part of the look, so you want to get it right. Take a dime-sized amount of hair gel in your hands and rub your hands together. We used Garnier Frutis Sculpting Gel – you just need basic gel for this part.  Put your fingers straight into the hair, like a comb, and then pull upwards and then forward, in a semi-circle motion. Repeat about 8 times – JK maybe like 5. Spend as much time as possible molding the the small top-pomp section of the hair – pulling the hair up and pushing it to the side. It's super hard to explain so here is some help. Seriously, if you want this hair you need to study these. I made Hilary master this move before she was allowed to leave the house.
 click on GIF for Tumblr source
Voila!

The final result!
Bonus: This hair style is not a temporary fix – it's even better on day two, as illustrated by Hilary's hair in the last photo. You too can achieve Prince Harold's messy waves and neo-pomp just get a hold of the tools and master the "method" shown in the GIFs above.
   We hope you enjoyed this as much as we did! How did we do? All the love. M & H

photo credit: Lou Teasdale Snapchat